Producenci
Promocje
Cinelog35 v2 - GEP-CL35 V2 rama
330,00 zł
Cena regularna: 350,00 zł
599,00 zł
Cena regularna: 699,00 zł
1 459,00 zł
Cena regularna: 1 599,00 zł
1 099,00 zł
Cena regularna: 1 299,00 zł
Bateria BT2.0 300mAh 1S 30C HV- BETAFPV- 1 sztuka
17,00 zł
Cena regularna: 20,00 zł
Pavo Pico Brushless Whoop Quadcopter
Dostępność:
tymczasowo niedostępny
towar niedostępny
dodaj do przechowalni
* - Pole wymagane
Opis
Kamera i HD Digital VTX (DJI O3 HD Digital VTX, Walksnail Avatar HD Digital VTX, and Vista HD Digital VTX) nie są dołączone do zestawu. Musisz je kupić osobno.
Instrukcja jak zamontować o3. link do filmu
Jak zbindować o3 z radiem od dji (tym szarym). link do filmu
We present the smallest 2S Sub100g DJI O3 Cinewhoop! This ultra-light cinewhoop with a small wheelbase is not only equipped with 45mm propellers but the latest F4 1S 12A AIO Brushless FC V3 which greatly heightens the flying experience. Due to Its split design HD VTX mounting bracket, it supports quick installation of mainstream HD digital VTX modules and a rubber damper vibration-damping design with GyroFlow stabilization software ensures stable and smooth HD images. Its design is well-suited for cruising indoors and outdoors alike.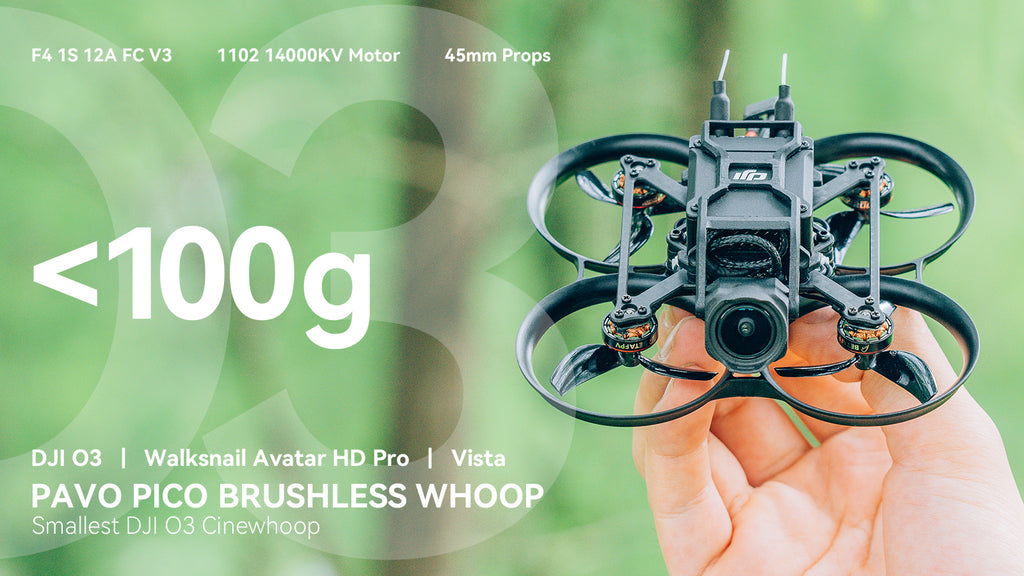 Bullet Point
The split-design HD VTX mounting bracket is compatible with popular models like DJI O3 Air Unit, Walksnail Avatar HD Pro, and Caddx Vista. The side bracket, rubber damper vibration-damping design, lens holder, and antenna have all been reinforced to suppress low-frequency vibration and enhance the safety of HD VTX, ensuring a stable output of high-definition videos. And simply connect the VTX cable and complete the binding process to start flying. 
To safeguard the DJI O3 camera lens and maintain consistent high-definition video output during flight, both a lens filter and a lens protection mount are included.
The battery slot and HD VTX mounting bracket duct height have been reduced to enhance the overall flying experience. DIY battery fixing methods are also supported, making them compatible with batteries of varying sizes and capacities.
The newly developed F4 1S 12A AIO Brushless FC V3 weighs only 4.2 grams and is optimized for HD digital VTX. Its improved computing power, high response speed, and stable flight make it an ideal choice for HD whoops.
The frame is constructed using PA12 material, known for its exceptional impact resistance and effortless installation process
Specification
Items: Pavo Pico Brushless Whoop Quadcopter
Color: Black
Flight Time*: 4min
Wheelbase: 80.8mm
FC: F4 1S 12A AIO Brushless FC V3 (STM32F405 MCU Version)
Battery: 2S 450mAh 45C
Props: GF 45mm-3B black propeller
Motor: 1102 | 14000kv red and black (2022)
Weight (No Battery): 71.2g (DJI O3), 66.02g (Vista), 65.88g (Avatar)
Frame: Pavo Pico Brushless Whoop Frame
HD VTX: Support DJI O3 Air Unit, Caddx Vista Kit / RUNCAM Link / Walksnail Avatar HD Pro Kit installation. 
RX Version: Serial ELRS/TBS
FPV Camera: Support DJI O3 Camera, Caddx Series, RUNCAM Series 19mm/20mm Camera, Avatar HD Pro Camera
Note: The flight time is calculated under 8.4V~6.8V. And the Pavo Pico Brushless Whoop Quadcopter does not include HD VTX and Camera.
HD Digital VTX System
Pavo Pico supports various types of HD VTX. DJI O3 and Walksnail Avatar Pro Kit both support HD digital VTX up to 1080P using dual-band transmission technology for better signal stability. The Vista Kit supports digital signal transmission for HD video up to 720P, with low latency and superior image quality performance. It's compact and lightweight, making it great for small drone installation, and compatible with various remote controls and monitors. The customized HD VTX mounting bracket has a split design, making it effortless to install for pilots DIY, and explore more possibilities while ensuring HD image quality.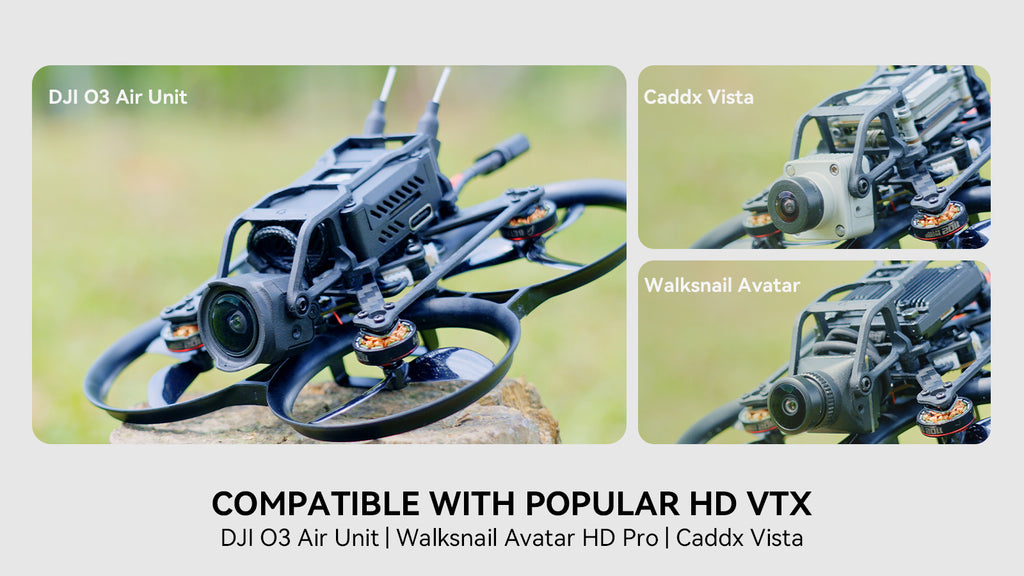 ND Filter for DJI O3 Camera
BETAFPV ND Filter for DJI O3 Camera is specifically designed for the Pavo Pico Brushless Whoop Quadcopter. Meanwhile, the DJI O3 Air Unit ND Filters are tailored for the DJI O3 Air Unit and are capable of reducing the amount of light that enters the camera lens. With this feature, you can achieve slower shutter speeds or wider apertures when flying. These lightweight filters are crafted from high-quality optical class ensuring optimal image clarity and are too easy to install on the build.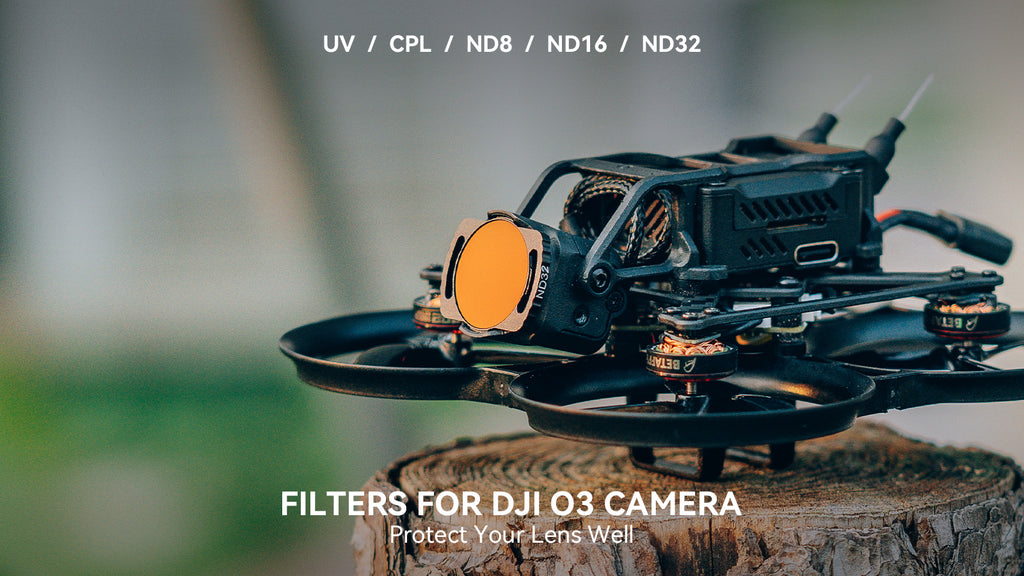 Pavo Pico Frame Kit
We used ultra-light PP material to make the HD VTX mounting bracket, increasing its toughness. The antenna fixing slot and frame have been fused to reduce damage risk, while the camera's installation height has been lowered with a protective printed part to limit its movable angle to within 30°. Additionally, an O3 filter can be used to protect the lens and enhance image quality. We have incorporated a unique rubber damper vibration-damping design, used with GyroFlow stabilization software, which greatly enhances safety and ensures a smooth, HD image output. When you screw the die-cast screws, please DO NOT screw them too tight to leave room for rubber dampers to absorb vibration. It may cause jello in the video footage.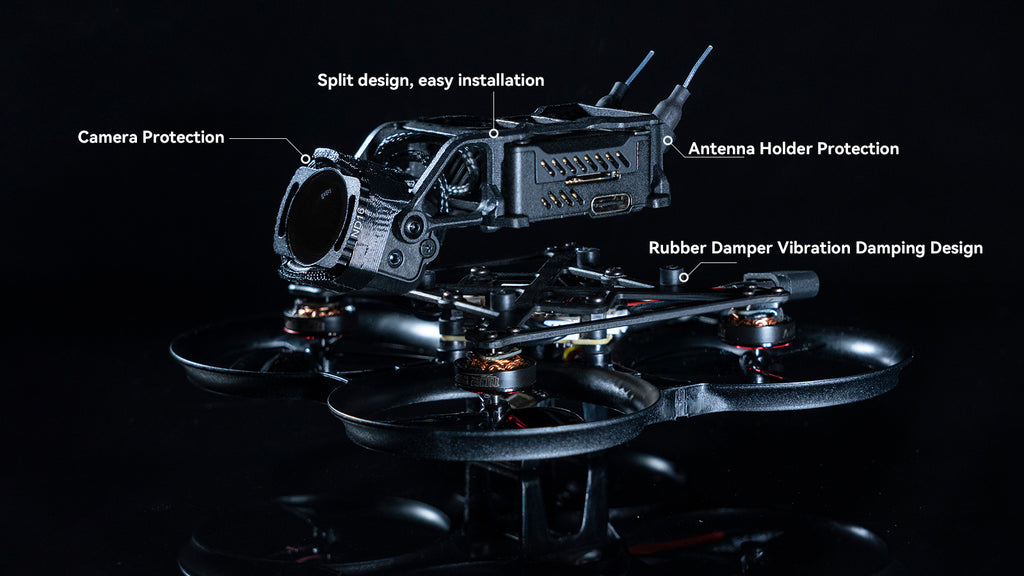 And The whoop quadcopter package includes the DJI O3 HD Digital VTX Antenna Mount.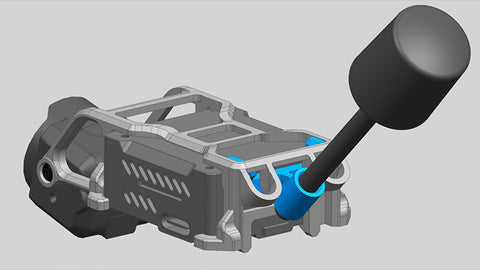 Upgrade Low Profile Design
After collecting feedback through the BETA TEST, we lowered the height of the HD VTX mounting bracket and whoop duct from 60.6mm to 51.5mm and the battery compartment results in a more low profile on the cinewhoop. Pilots can further customize their cinewhoop with DIY options such as battery straps or printable components, allowing for compatibility with a variety of battery sizes. This enables pilots to tailor and enhance their cinewhoop to meet their specific requirements and preferences.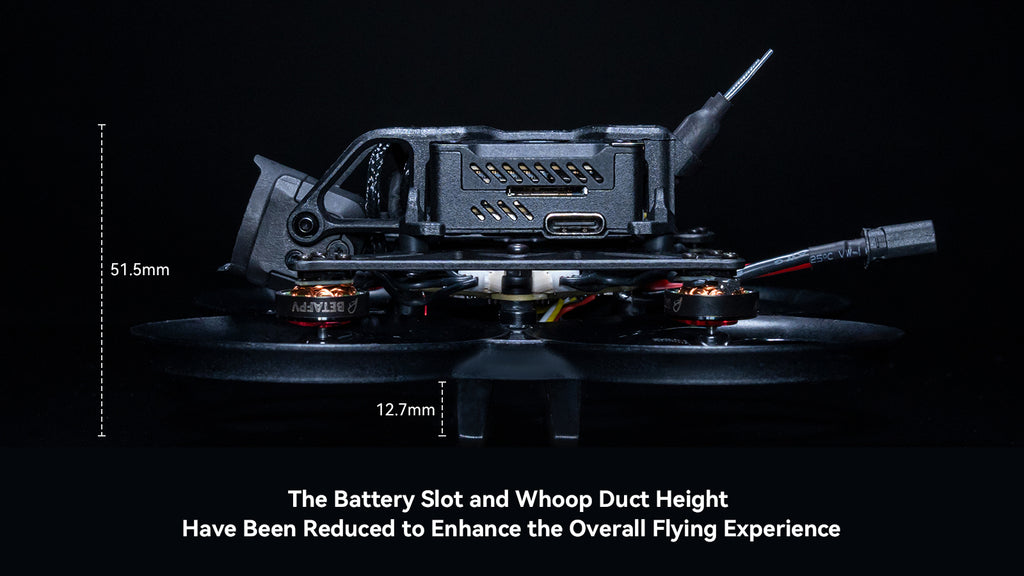 Flight Controller
F4 1S 12A AIO Brushless FC V3, the FIRST flight controller designed specifically for HD VTX. This whoop quadcopter is equipped with STM32F405 chip for high-performance calculations. It weighs only 4.2 grams and includes a Serial ELRS 2.4G receiver, 16MB Black Box, Barometer, and Current meter. Designed for HD VTX, it also added support for external GPS through Betaflight 4.4.0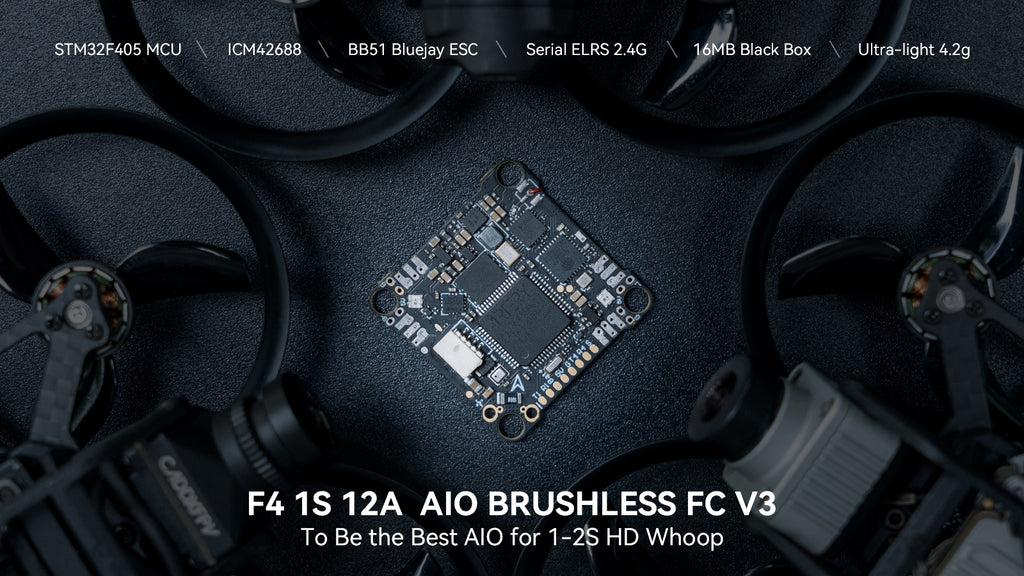 Power system
The 1102 14000kv motor brings stronger power and lower noise, delivering abundant thrust and impressive speed that enable effortless execution of aerial maneuvers. Paired with the high-performance Gemfan 45mm propeller, this power system achieves superb balance, ensuring powerful lift and stable flight, while also providing precise and responsive control. The combination of these power systems makes it an excellent choice for Pavo Pico, allowing pilots to easily accomplish filming tasks.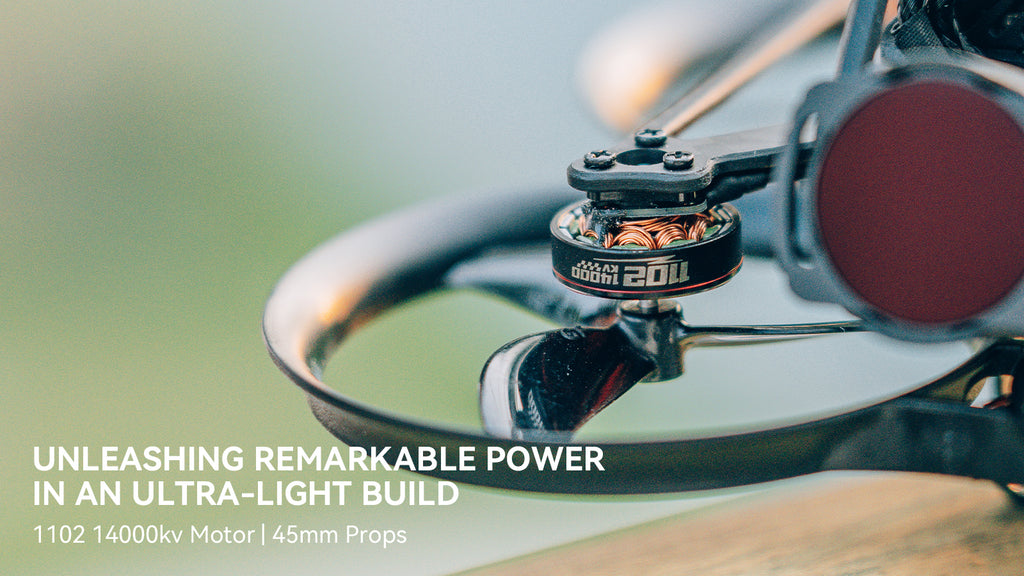 Carbon Fiber VTX Adapter
We found that the installation dimensions of the Vista and Avatar HD Pro digital VTX modules closely match those of the O3 digital VTX. Thus, Installing a carbon plate with mounting holes that measure 20x20mm is sufficient to mount both digital VTXs. Install quickly and effortlessly, while meeting pilots' various DIY needs, and exploring more possibilities for flying.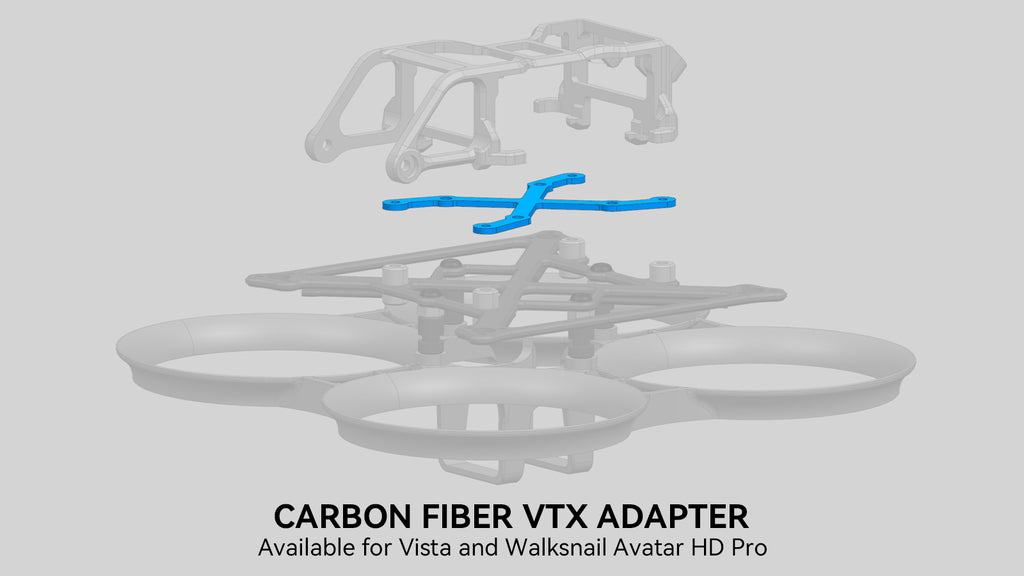 Pavo Series
BETAFPV has been dedicated to enhancing the performance of the Pavo Cinewhoop Series through continuous optimization and upgrades. The Pavo Cinewhoop Series including Pavo25, Pavo30, and Pavo360, is designed to deliver exceptional results when it comes to capturing breathtaking and seamless footage. Additionally, these drones offer pilots an exhilarating flight experience that's bound to satisfy their cravings for adventure.
Recommend Parts
Package
1 * Pavo Pico Brushless Whoop Quadcopter (Without HD Digital VTX & Camera)
1 * 2S 450mAh Battery
4 * GF 45mm-3B Propellers
1 * USB Parameter Adjustment Cable
1 * 5.8G Copper Tube Antenna Package
1 * VTX Bracket Screw Package
2 * DJI O3 HD Digital VTX Antenna Mount
2 * DJI O3 HD Digital VTX Mounting Bracket
1 * VTX Mounting Plate (Vista/Avatar HD Digital VTX Version Only)
1 * DJI O3 Lens UV Protector (DJI O3 HD Digital VTX Version Only)
1 * DJI O3 Lens Protective Case (DJI O3 HD Digital VTX Version Only)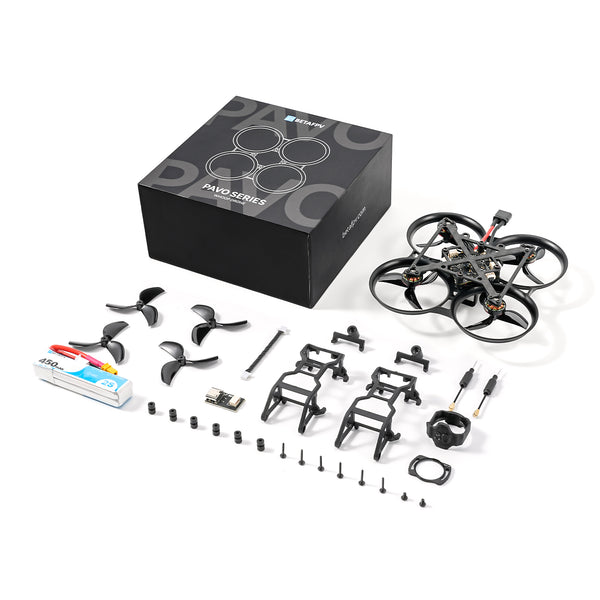 Note: 1. The package picture above is the DJI O3 HD digital VTX version. 2. DJI O3 HD Digital VTX, Avatar HD Digital VTX, and Vista HD Digital VTX are not included in all packages. You need to buy it yourself.
Koszty dostawy Cena nie zawiera ewentualnych kosztów płatności
Opinie o produkcie (0)